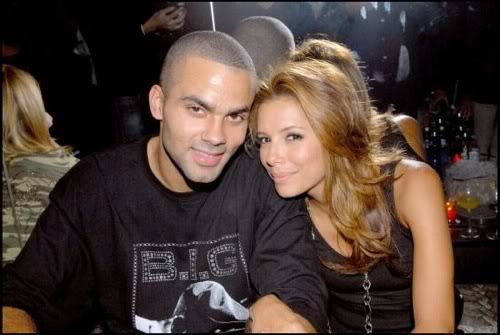 Well this ish just got ugly.  Rumors have been swirling since yesterday that Tony Parker's infidelity is what led Eva Longoria Parker to file for divorce this morning.  But now, word has it he was chopping down another NBA wife….his own former TEAMMATE'S wife to be exact!  And yes…the couples were friends!
The deets and text message info (when will they learn?) when you read on…

While both Eva and Tony have Tweeted the exact same statement that they still deeply love each other but have chosen to end their 7 year relationship (they were married 3 of those years), news of these cheating text messages of Tony's just got more ugly.
Eva' bestie Mario Lopez went on his show Extra! to reveal some deets.  And apparently Eva confirmed to him that Tony cheated and she had found hundreds of text messages.
Now, other sources both in the NBA and in the industry are revealing that the mistress in question is actually married herself…to Tony's former Spurs teammate!  The alleged culprit is Erin Barry, wife of Brent Barry who retired last year.  Even though her hubby may not be in the league anymore, sounds like homegirl is still playing the field.
Reportedly, the Barrys are in the middle of their own divorce.  No word on when the alleged affair between Tony and Erin began, but I'm sure we'll find out soon.  *waiting on Gloria Allred's inevitable press conference*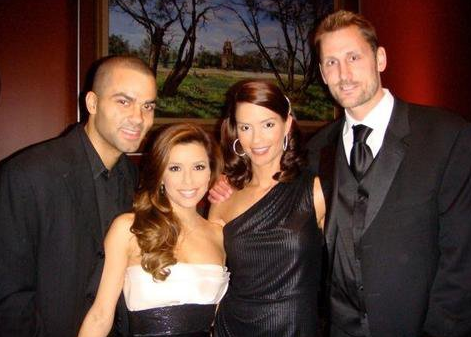 Oh–but it gets worse.  Eva and Tony are (were) actually FRIENDS with the Barrys.  The pic above was taken at Eva's restaurant Beso on New Year's Eve where the couple partied together.  Damn!  Looks like you gotta watch your man around married women too.  And Tony def has a type…
CNN reports:
Longoria says that Parker cheated on her earlier in their marriage and that he kept in touch with the woman on Facebook, according to Lopez.

"She is devastated, she wants us all to know that," Lopez says. "But she's strong."
Not Facebook!
And sports reporter Bryan A. Graham tweeted what he knows from the inside: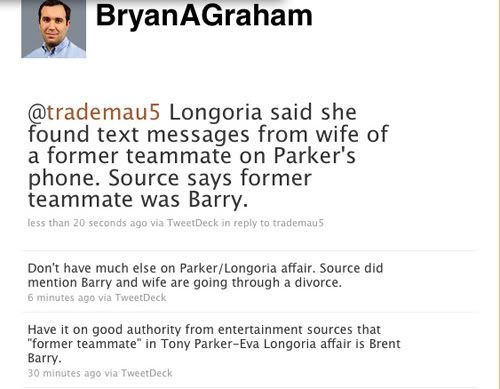 Here are the divorce docs filed this morning where Eva claims "irreconcilable differences":
By the way, Tony just signed a four-year, $45 million extension with the Spurs.
Also On Hot 96.3: