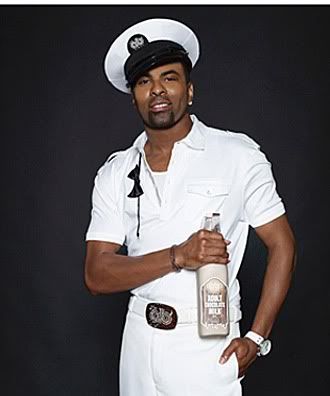 Got milk?  Ginuwine is the new spokesman for a 40 proof version of chocolate milk that will soon hit the shelves in 2011 of a Costco near you.  Get deets inside on your milk man…
Like Billy Dee to malt liquor, Ludacris to Conjure Cognac, and Diddy to Ciroc, Ginuwine has added his brand of sexiness to a new alcoholic drink known as Adult Chocolate Milk.  Who knew?
Ginuwine will be on billboards on the Vegas Strip soon and there's also a national TV commercial planned that I'm sure will give the Old Spice Guy a run for his money.
As the sexy chocolate milkman, imagine Ginuwine showing up to your door with a delivery…and licking his own milkmustache.  With the right commercial, I think Ginuwine could turn this into an Emmy-winning comeback.  I just want to know whose idea this was….
Photo via Adult Chocolate Milk
Source: theybf.com