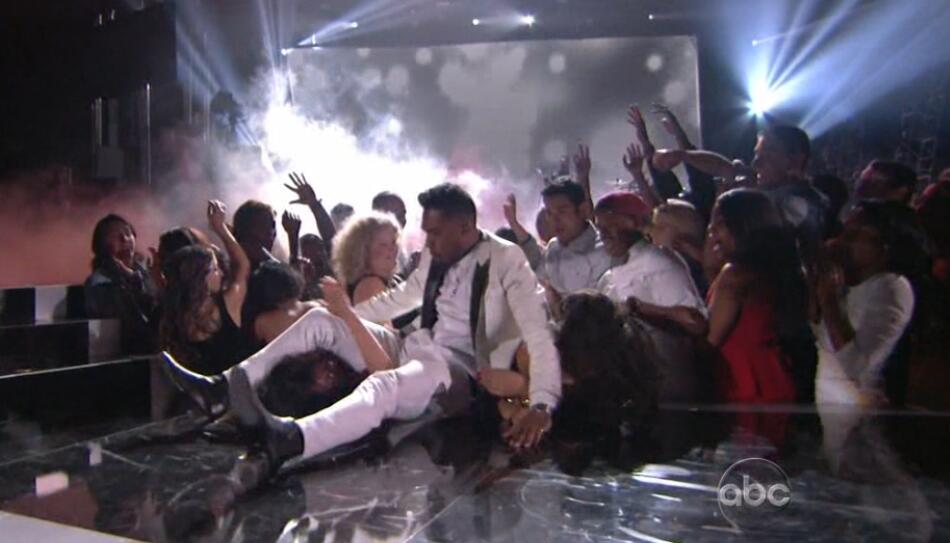 Though Nicki Minaj gave Lil Wayne a lap dance, Justin Bieber beat out Bruno Mars for the fan voted milestone award, J-Lo's crotch got a camera close-up and Prince didn't press his hair, the 2013 Billboards Awards will be remembered by many as the night singer Miguel took a flying leap off stage and drop-kicked two fans like it was WWE amateur night.
RELATED: Billboard Awards 2013: The Absolute eBest (& Worst) Dressed (PHOTOS)
The singer was in the middle of performing his classic hit, "Adorn," when the jaw-dropping accident occurred.
See below:
The hilarity quickly ensued on Twitter!
Did Miguel think he could fly ? cdn2.mocksession.com/wp-content/upl…—

Khleo Thomas (@Khleo_T) May 20, 2013
Miguel did a Sonya Blade on the poor girl in the crowd …—

Clay (@claycane) May 20, 2013
did miguel just kill someone on national TV? twitpic.com/crtz0z—

Nick Johnson (@NickBesTMaN) May 20, 2013
Jdjksbakap RT @rustymk2: RT @Future5ive: Imagine if Rick Ross did what Miguel just did. http://t.co/aEfYoTQ7JP—

Corey (@_ThatGuyCorey) May 20, 2013
Did #Miguel almost behead to girls w/a mistimed jump on the music awards?!? LMAO. We gonna act like that didn't happen?!? ROTFL—

Jumaane D. Williams (@JumaaneWilliams) May 20, 2013
He did a skybomb tea bag on a woman in mid performance RT @Stamp_Denise: What did my baby Miguel do?—

iBustOnBellyButtons (@LanezWorld24) May 20, 2013
Hold up! Did Miguel really just hit the crowd with a Billy Gunn top turnbuckle fame asser tho?—

Jamaal Johnson (@schoolsmyhustle) May 20, 2013
Jus Seen That Hulk Hogan Leg Drop Miguel Did On Ol Girl For The First Time…….Haaaaaaaaaaaaa LMMFAO—

RocTiMus PRiME (@Sir_CharlieRoc) May 20, 2013
No word on if charges will be filed, but, allegedly, one of the women Miguel drop-kicked was spotted backstage with him holding an ice-pack.
That's one way to leave an impression, Miguel!
Twitter Decides: Miguel Wins Billboard Awards With Fan Drop Kick! [VIDEO]  was originally published on newsone.com